Bubba Wallace and 23XI Racing
Make it stronger. Make it faster. Make it for everyone.
Decisions happen fast. At Leidos, split seconds define our nation's defense, protect our collective health and wellbeing, and speed the wheels of government.
Running with Bubba and 23XI
Change is accelerating and Bubba Wallace is a catalyst for this change. His efforts have paved the way for togetherness, for unity; advancing a culture of inclusion and diversity in NASCAR and across the world. This culture which celebrates a rich diversity of thought, experiences, backgrounds, and perspectives will be the inspiration that fuels a better tomorrow.
Meet the Leidos No. 23 Camry TRD
The Leidos No. 23 Camry TRD design is rooted in the main Leidos brand colors of violet and ultraviolet, and complimented by a multi-spectrum continuous ring of vertices. These vertices adapt and change in an unbroken loop around the car, symbolizing the unity and strength of the many perspectives within Leidos.
Our partners

Bubba Wallace
In 2021, Bubba made history to become the first Black driver to win a race in NASCAR's premier Cup series in nearly 50 years.
Learn More About Bubba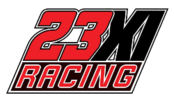 23XI Racing
The Michael Jordan and Denny Hamlin-owned 23XI Racing entered the Cup series for their debut season in 2021.
Learn More About 23XI
I'm pumped to partner with Leidos again. We had a great partnership when I was running Xfinity and to now have them on board our No. 23 Camry TRD and continue supporting my career and what we are doing both on and off the racetrack at 23XI is really a cool thing for me.

,

No. 23 Camry TRD
February 26, 2023 at the Auto Club Speedway in Fontana, CA

April 2, 2023 at the Richmond Raceway in Richmond, VA

June 4, 2023 at the World Wide Technology Raceway in Madison, IL

July 9, 2023 at the Atlanta Motor Speedway in Hampton, GA

July 23, 2023 at the Pocono Raceway in Long Pond, PA

October 1, 2023 at the Talladega Superspeedway in Talladega, AL
Follow us throughout the season for fan giveaways, access to special content, and news about special events.