Digital Modernization
A Culture of Innovation and Security
Mission-centric IT
We develop mission-focused solutions to accelerate our customer's digital transformation objectives by delivering resilient enterprise IT solutions and managed services that leverage trusted AI and full-spectrum cyber to decrease burdens and vulnerabilities in complex IT operations.
Critical IT services for Australian federal government agencies
Leidos Australia delivers prime contracts for service operations and IT infrastructure management. By improving the end user experience, we reduce customer risk, enabling them to make informed decisions in meeting their organisation goals for existing customers like the Australian Taxation Office and Chief Information Officer Group. We support over 26,000 ATO users for their end user technology needs, deliver against service management disciplines – such as ITIL and COBIT, and provide support across Australia in all capital cities and regional locations.
Key Australian IT projects

Centralised Processing
Consolidation of 280 data centres into 12 domestic and three international sites, creating a new Centralised Processing environment for the Australian Department of Defence
End User Computing
Agile desktop environment for Defence designed to improve security through more rigorous responses to cybersecurity threats and better support day-to-day operations and sustainment.

End User Technology & Support
Device-agnostic services for desktop infrastructure, development and test environments, and server and storage management.

Enterprise Service Management Centre
Supporting Australia Tax Office employees with full ITIL-based service management, including round-the-clock service desk support
Roadmap to modernization
Dr. Dan Voce, Senior Vice President, Enterprise & Cyber Solutions, Leidos and George Batsakis, Executive Vice President and Chief Strategy Officer, 1901 Group, Leidos discuss The Next Phase of Digital Modernization in part one of this four part series.
We help our customers achieve their missions and IT business goals by delivering purpose-built solutions with cybersecurity as a standard, efficient project delivery, and end-user satisfaction. Our user-centric approach to enterprise IT and digital modernization focuses on the user and the mission first and foremost, while not losing sight of the IT backend. See how our approach advances the digital workplace with proven solutions in cloud, collaboration, data centers, mobility, network modernization, and SecDevOps.
Edge-to-cloud capabilities for the modern warfighter
Working together with AWS, we're confronting the challenges of data silos, isolated platforms, and evolving technologies by creating an integrated edge-to-cloud ecosystem to support warfighter operations and tactical exploitation.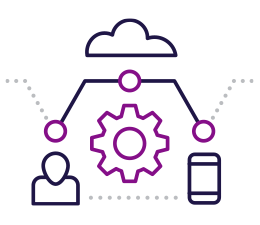 We manage over
3,000,000
network users for an
international defense agency
Enabling Technologies
Our enabling technologies are the backbone of our core capabilities, supporting our customer's important work from the front lines.
Learn about our technologies