Space
A constellation of capabilities for the most critical of missions
Deep space is calling
With a track record of success at NASA centers across the country, Leidos provides the mission understanding and technical expertise necessary to support advancements in space exploration and human spaceflight across the public and private space sector. See how more than 60 years of experience serving NASA and the space industry benefits day-to-day operations as well as technical feats in space.
From hardware and experiments to toothpaste and food, the International Space Station crew requires a steady stream of supplies. 
Discover how we handle the complex logistics needed to support international partners and commercial cargo vehicles.
Leveraging our Core Competencies
Learn how technical core competencies in areas as diverse as IT Modernization, Data Science, Operations and Logistics, and Cyber serve as critical enablers in the missions of our Space customers.
Download A-Z of Capabilities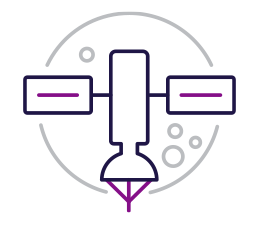 We process
and pack
35,000 lbs
of supplies for
the ISS annually