Space
A constellation of capabilities for the most critical of missions

Deep space is calling
With a track record of success at NASA centers across the country, Leidos provides the mission understanding and technical expertise necessary to support advancements in space exploration and human spaceflight across the public and private space sector. See how more than 60 years of experience serving NASA and the space industry benefits day-to-day operations as well as technical feats in space.
Get up close to our human landing system in augmented reality
Experience the generation-defining technology that will take the first woman and next man to the surface of the moon in Lunar, our augmented reality experience that leads you on a virtual trip to the moon, and letting you explore our human landing system in detail like never before.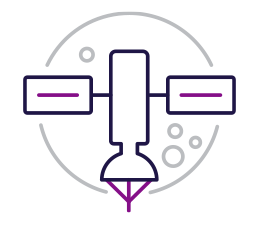 We process
and pack
35,000 lbs
of supplies for
the ISS annually
From preparing astronauts for space travel to conducting scientific research
and experiments in zero-gravity, Leidos works to apply mission understanding
and technical expertise to each project.
Read more about our work with cargo and mission support, IT
modernization, and astronaut training and preparation.
Embracing Space Innovation
A look at agile acquisition in national security space
How autonomous systems in space can save lives
Chief autonomy scientist Bob Touchton offers his thoughts on the help autonomous space capabilities can provide.
Leveraging our core capabilities
Learn how technical core capabilities in areas as diverse as digital modernization, integrated systems, mission operations, and cyber serve as critical enablers in the missions of our space customers.
Download A-Z of Capabilities