A visionary leader with a lasting legacy
In 1969, with a few dollars and a good idea, scientist J. Robert Beyster, Ph.D. founded SAIC, the company that evolved into Leidos.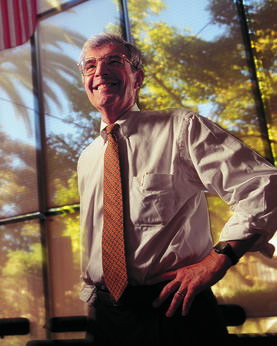 Born in Detroit in 1924, Beyster joined the Navy after high school. Seeing his potential, the Navy sent him off to the University of Michigan. He earned a BSE in engineering and physics in 1945, MS in physics in 1947, and a PhD in nuclear physics in 1950.
Throughout the 1950's, Beyster worked on applied physics at Los Alamos National Laboratory where he performed experiments and co-authored papers with Nobel Laureate Hans Bethe. He also saw many of his Los Alamos co-workers leave to start companies. "I thought they should be working on scientific projects," says Beyster, "why are they worried about starting these crazy little companies?"
In 1957, Beyster was hired by General Atomics (GA) in San Diego to establish and manage a $5 million, Traveling Wave Linear Accelerator facility. A dozen years later he would leave GA to found his own "crazy little company" called Science Applications Incorporated.
Beyster believed giving his team shares of the company would strengthen employees' sense of ownership and drive. As Beyster began interviewing applicants, he made a point of explaining this unique ownership arrangement. "I would say, 'This company is not for everybody. We're going to try to share the rewards in an equitable manner,' " says Beyster.
His entrepreneurial philosophy wasn't just a key driver of the company's steady growth, it had a significant impact on the entire scientific field. By last count, SAIC alumni have gone on to launch 50 start-ups of their own.
Beyster's business legacy also includes two non-profits he started to help promote entrepreneurship.
The Foundation for Enterprise Development helps governments and private organizations foster entrepreneurship as an effective social and economic strategy.
The Beyster Institute for Entrepreneurial Employee Ownership promotes global entrepreneurship, employee ownership, and economic development through consulting, training, and international projects. It has been incorporated into the University of California, San Diego, Rady School of Management.
In 2004, J. Robert Beyster, Ph.D., retired as SAIC's chairman. The board honored his 35 years of visionary leadership with donations in his name to both the Beyster Institute and the Foundation for Enterprise Development.
But retirement hasn't been all boating and blogging for Beyster. In 2007, he co-authored The SAIC Solution: How We Built An $8 Billion Employee-Owned Technology Company, offering an inside look at one of the most successful research and technology companies in the world.
In 2008, Dr. Beyster was inducted into the Horatio Alger Association of Distinguished Americans, a unique honor acknowledging individuals who succeed through hard work and perseverance.
Dr. Beyster's life journey from renowned physicist to industry icon concluded with his passing on December 22, 2014. Meanwhile, the company he founded remains one that recognizes hard work and values its forward-thinking entrepreneurs.