Corporate Footprint and Environmental Stewardship
We are committed to reducing our environmental impact.
At Leidos, we have eliminated under-performing real estate assets and improved operating efficiencies across our entire real estate portfolio, including through flexible workplace initiatives. These actions have been the largest contributing factor to reaching our Legacy 2020 greenhouse gas (GHG) reduction goal of 25% six years early in 2014. Between 2015 and 2016, we continued to reduce GHG emissions through real estate restructuring as well as through improved efficiency programs and increased use of renewable energy to power our owned facilities. Continued improvements to the power grid (e.g. increased efficiency and use of cleaner fuels) have also contributed to emission reductions. Leidos remains primarily a service-oriented company, with the majority of our real estate portfolio being commercial office space. Leidos continues to occupy lab, warehouse, and data center space that contributes to the company's environmental footprint. Our operations are lower impact in nature when compared to many of our competitors that specialize in heavy manufacturing, an emission-heavy business model.
Footprint at a Glance
The table below illustrates the primary metrics that we track and manage, including GHG emissions, energy consumption, waste generation, and water use. We are also monitoring transportation and material consumption.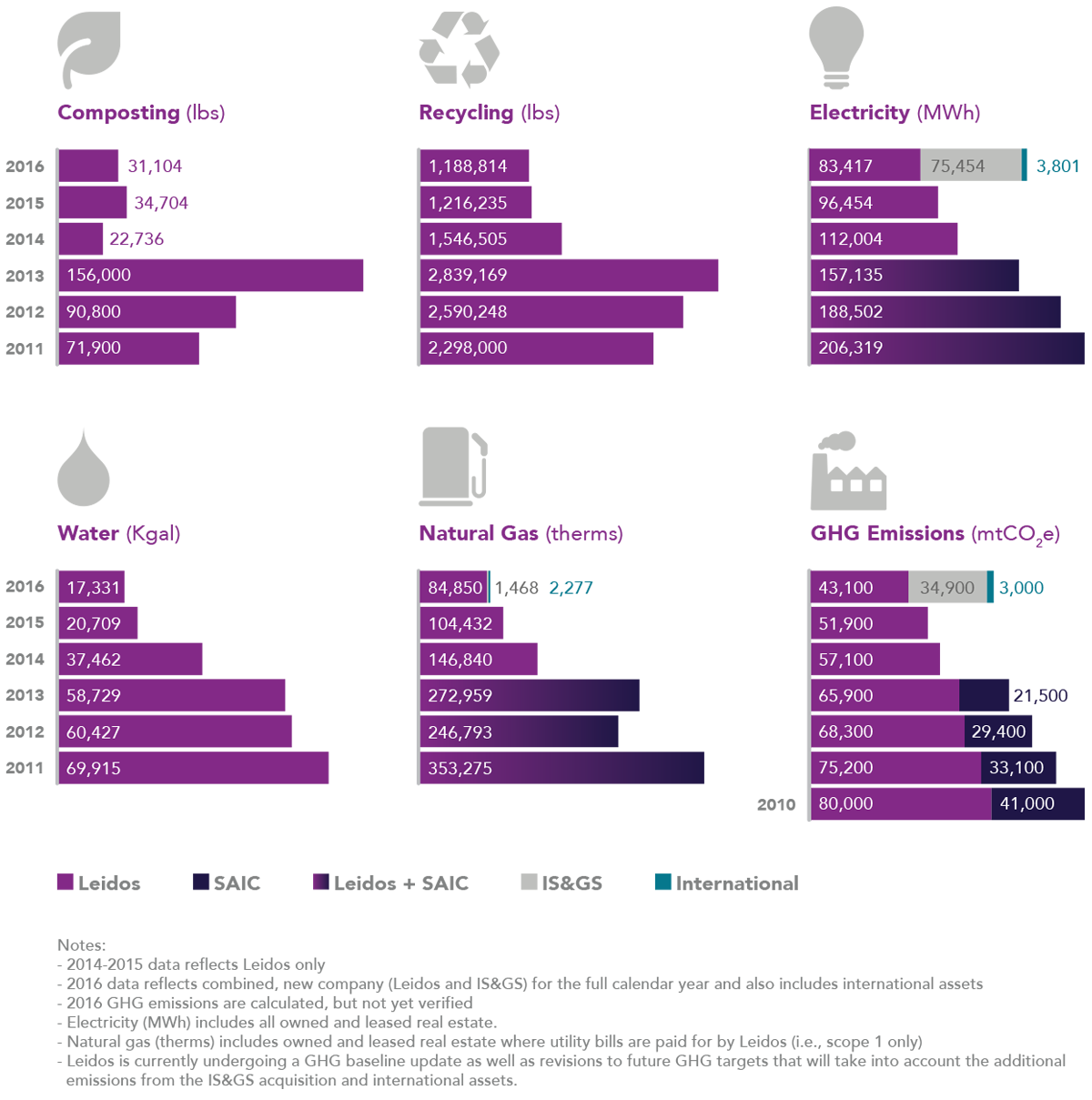 GHG Emissions
Leidos views GHG emissions as an important metric that is a good representation of our overall environmental impact and mitigation progress. Each year, the GHG emissions from our North American real estate portfolio and vehicle fleet are measured, publicly reported to The Climate Registry (TCR), and verified by a third party. Since we announced our commitment to reduce GHG emissions in 2011, we have met our target of a 25 percent absolute reduction from a 2010 baseline. In calendar year 2016, Leidos reduced GHG emissions from North American sources by over 16%.
Beginning in calendar year 2016, emissions from international sources are included in our GHG inventory. In addition, Leidos successfully completed the acquisition of Lockheed Martin's Information Systems & Global Solutions (IS&GS) business in August 2016. This change to the organization resulted in the transfer of emissions-generating activities from Lockheed Martin to Leidos. It is important to note that this change represents a transfer of emissions from one company to another and not an increase of emissions released to the atmosphere. Leidos is in the process of calculating the impact of this change on our energy consumption and emissions. Preliminary results can be seen in the "Footprint at a Glance" tables in this section. Note that this represents the impact to Leidos for the entire calendar year 2016, as required by the GHG Protocol. Leidos is also undergoing a recalculation of base year emissions in order to provide a comparable assessment of past emissions and maintain consistency in tracking progress toward GHG targets.
GHG Inventory Overview
| Reporting Requirement | Direct GHG Emissions (Scope 1) | Energy Indirect GHG Emissions (Scope 2) |
| --- | --- | --- |
| 2016 GHG Emissions (MTCO2e)1, 2 | 1,700 | 79,300 |
| Gases included in calculation | CO2, CH4, N2O, HFCs | CO2, CH4, N2O, HFCs |
| Base Year | 2010 | 2010 |
| Base Year Emission (MTCO2e)3 | 3,000 | 117,900 |
| Base Year Rationale | 2010 is considered the base year, because it was the first year that SAIC/Leidos began developing a GHG inventory and reporting GHG emissions to The Climate Registry. |   |
| Standard, Methodologies and Assumptions | Leidos uses standards, methodologies and assumptions from The Climate Registry's (TCR) General Reporting Protocol.4 |   |
| Consolidation Approach | Operational Control |   |
1 Reported values include global Leidos and IS&GS emission sources for the full calendar year.
2 2016 GHG emissions results have not yet been third-party verified.
3 Base year emissions are being updated to reflect the current organizational structure; Reported values are for the original baseline calculated in 2011 and include Leidos and SAIC emission sources.
4 TCR's General Reporting Protocol & Conversion Factors can be found on their web site.
5 Footnote
Leidos pursued several emissions reduction strategies to achieve the GHG target, including:
Utilizing real estate effectively through the following strategies:

Disposing of underperforming or underutilized assets
Improving the density of existing space
Implementing alternative workplace strategies

Reducing energy consumption and investing in renewable energy across the enterprise:

Identifying and implementing energy efficiency projects
Exploring opportunities for onsite renewable and alternative energy production
Purchasing renewable energy credits through a proven and innovative energy auction conducted by the Leidos Energy Solutions Team

Documenting our efforts to enhance technology and network support, including upgrades to more energy-efficient equipment (e.g., thin clients and blade servers) and cloud-based IT service delivery, enabling greater workplace flexibility
Improving employee awareness of environmental sustainability and educating employees on how to improve workplace behavior to reduce wasteful energy consumption.
Energy
In 2013, we began to institute energy savings opportunities identified in our Strategic Energy Management Plan. We continue to drive savings through standardized operating procedures and design practices. The tables below detail additional energy consumption and reduction results within the organization.
Total fuel consumption from non-renewable sources, including fuel types used (joules or multiples)1
|   | FUEL TYPE | 2016 CONSUMPTION |
| --- | --- | --- |
| BUILDING | Natural Gas (scope 1) | 8,859 (MMBtu) |
|   | Natural Gas (scope 2) | 152,871 (MMBtu) |
|   | Diesel & Fuel Oil #2 | 7,067 (gal) |
|   | Gasoline | 1,540 (gal) |
| FLEET | Gasoline | 65,716 (gal) |
|   | Diesel | 15,934 (gal) |
|   | E100 | 13,971 (gal) |
Total energy consumption (Gigajoules)1
|   | FUEL TYPE | 2016 CONSUMPTION |
| --- | --- | --- |
| BUILDING | Electricity | 592,255 |
|   | Natural Gas (scope 1) | 9,347 |
|   | Natural Gas (scope 2) | 161,283 |
|   | Diesel & Fuel Oil #2 | 1,044 |
|   | Gasoline | 211 |
| FLEET | Gasoline | 9,013 |
|   | Diesel - Fleet | 2,354 |
|   | E100 | 1,238 |
|   | TOTAL | 776,745 |
Overall reduction in energy consumption achieved through conservation and efficiency initiatives
|   | FUEL TYPE | CHANGE FROM 2015 - 2016 |
| --- | --- | --- |
| BUILDING | Electricity | -13,037 (MWh) |
|   | Natural Gas (scope 1) | -1,958 (MMBtu) |
|   | Natural Gas (scope 2) | -27,987 (MMBtu) |
|   | Diesel & Fuel Oil #2 | -114 (gal) |
| FLEET | Gasoline | -30,246 (gal) |
|   | Diesel - Fleet | -5,998 (gal) |
|   | E100 | 998 (gal) |
|   | TOTAL ENERGY (GJ) | -84,020 |
|   | TOTAL ENERGY (%) | -17% |
The changes reflected above are for Leidos assets only. 2016 Consumption from IS&GS assets was removed before the changes were calculated.
Standards, Methodologies, and Assumptions Used for Energy Calculations
To the extent possible, The Climate Registry's General Reporting Protocol was followed for data collection and calculation standards, methodologies, and assumptions.
Building-specific Assumptions
For owned buildings and leased buildings where Leidos is responsible for paying utility bills, electricity, natural gas, and propane data were collected from utility billing information.
For leased buildings where Leidos is not responsible for paying utility bills, 2016 electricity consumption was estimated by multiplying the square footage of each lease by an assumed electricity intensity factor based on building type (see table below). The resulting consumption was prorated based on the fraction of the year for which Leidos occupied each lease. Natural gas consumption was not estimated for these facilities, since data is not available on which facilities are using natural gas and which facilities are not.
Diesel fuel use for generators at owned facilities was estimated by multiplying the number of hours each generator was in use during 2016 by the fuel consumption rate (gallons per hour) specific to each generator model.
Electricity and Natural Gas consumption by building type
| BUILDING TYPE | ELECTRICITY INTENSITY FACTORS (KWH/FT2/YR) | NATURAL GAS INTENSITY FACTORS (KBTU/FT2/YR) |
| --- | --- | --- |
| Office | 15.9 | 27.4 |
| Warehouse / Storage | 6.6 | 19.9 |
| Lab / R&D / Other | 28.3 | 58.6 |
Source: 2012 Commercial Buildings Energy Consumption Survey (CBECS), Energy Information Administration.
Fleet-specific Assumptions
Leidos vehicle data is taken from insurance policy data that is updated on a quarterly basis.
Fuel consumption was prorated based on the disposal date of the vehicle. If the vehicle did not have a disposal date, it was assumed to have been used for the entire calendar year.
Type of energy included (fuel, electricity, heating, cooling, steam, or all): All, however, only fuel and electricity are used by Leidos (no heating, cooling, or steam energy is purchased by Leidos.
Base year and rationale: 2010 is the base year, because it was the first year that SAIC/Leidos began reporting GHG emissions to the TCR. Since most GHG emissions in the SAIC/Leidos inventory result from energy, this is the logical baseline for energy reduction comparisons.
Conversion factors: Leidos uses conversion factors from The Climate Registry's General Reporting Protocol. These factors generally come from the U.S. Environmental Protection Agency, the Intergovernmental Panel on Climate Change, and the U.S. Department of Energy.
Material Use and Environmental Supplier Assessment
Leidos works closely with many of our vendors to support our business operations with environmentally friendly materials. Printing and paper use are daily impacts that we do our best to manage. Because these activities touch our employees on a daily basis, our procurement vendors have restricted the types of products that can be used in printing and paper use. When Leidos specifies new occupied space or updates existing space, we attempt to use the most environmentally friendly options possible. Our carpet and furniture vendors have been especially helpful by providing cost-competitive and environmentally friendly products.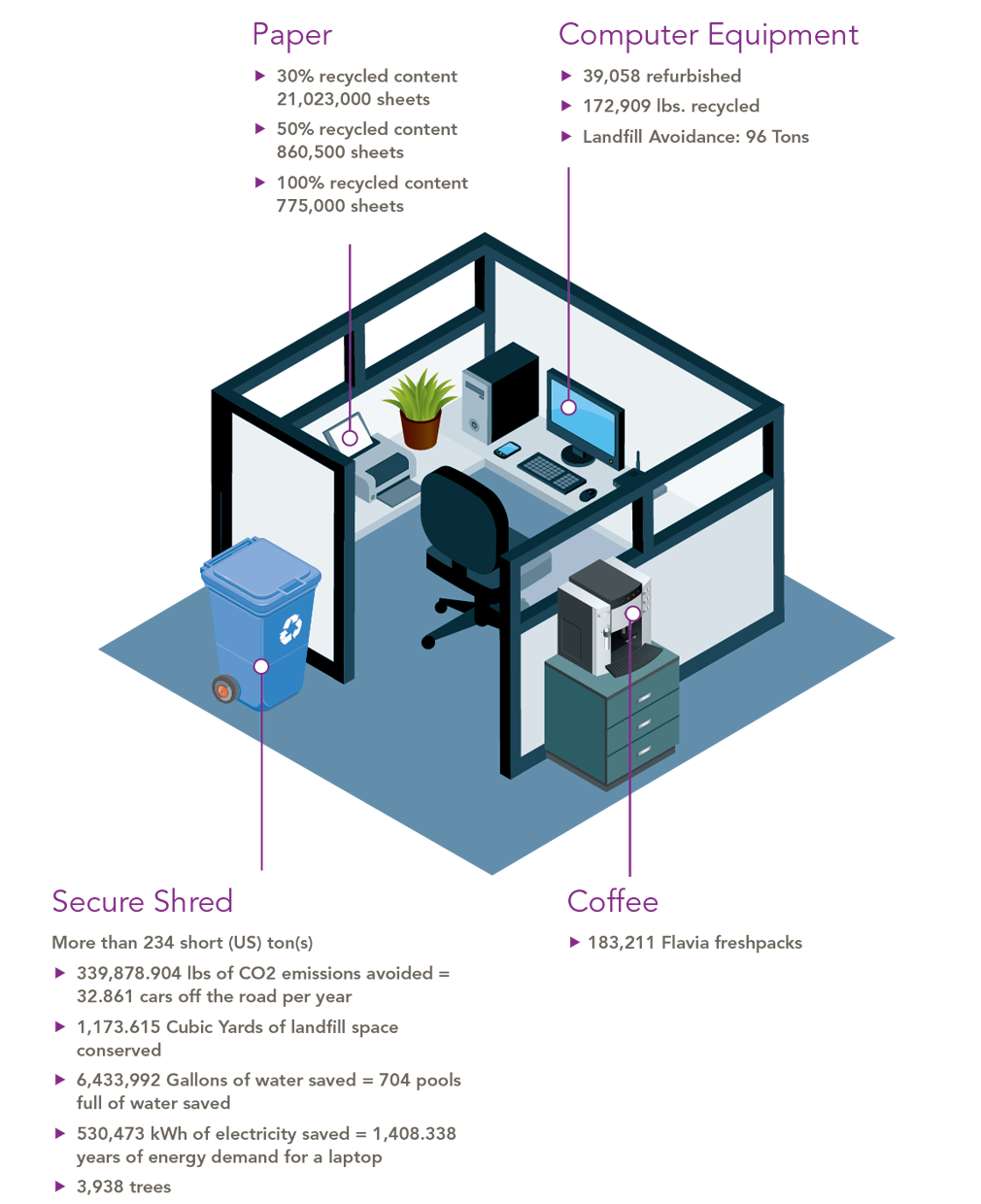 Water
Water use at Leidos is mostly limited to typical commercial office consumption, which does not have a significant effect on national or local water sources. We monitor our water use and work to reduce its use through water-efficient technology, especially in water-sensitive climates like Southern California. For example, our San Diego campus taps into the city's reclaimed water distribution system to supply irrigation to our landscaping, a practice that conserves community drinking water resources.
Transportation
Reducing the environmental impact of commuting is important to Leidos. We continue to encourage and support commuting alternatives to single-rider vehicle use. Our Commuter Incentive Program provides a financial incentive to employees who choose to commute by mass transit, carpools, vanpools, bike, or foot. Ridesharing and carpool matching are made available on our intranet to employees through local commuter web sites. Our transportation actions have been awarded twice with a Best Workplace for CommutersSM designation by the National Center for Transit Research.
Business Travel
Business travel, both internally and in support of customer requirements, amounts to a considerable portion of our environmental impact. Airline travel and rental car reservations continue to decline across the company due to more efficient business processes. We will continue to track travel data and look at mechanisms to measure the associated Scope 3 GHG emissions. Our headquarters in Reston, Virginia, has been outfitted with advanced technology to encourage video-conferencing and reduced business travel across the Enterprise.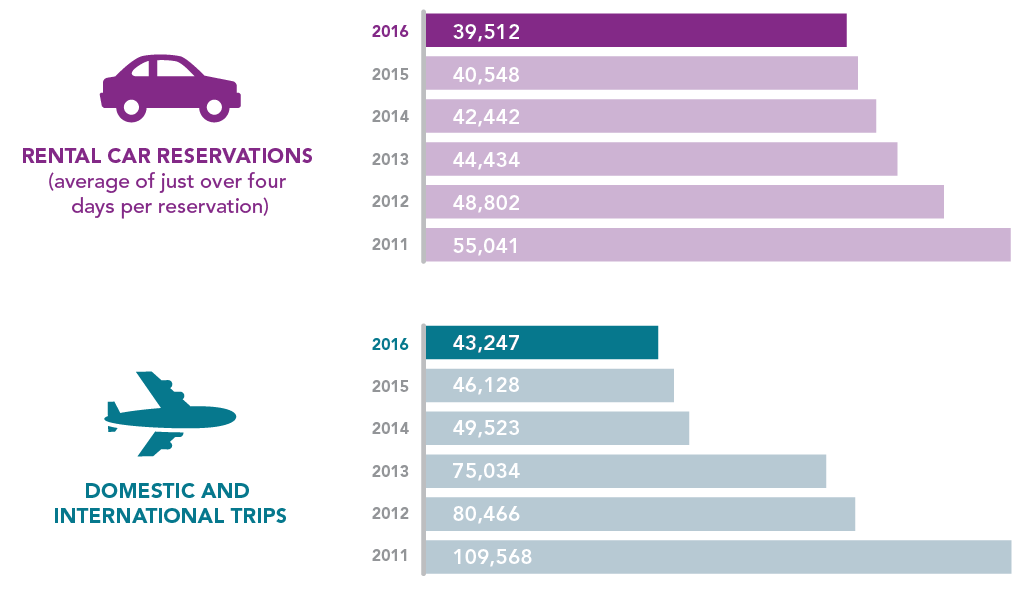 Flex Work
Leidos promotes flexible work environments to improve employee work-life balance, promote a high-performance culture, and help reduce the company's environmental impact. When leasing new or renovating existing space, Leidos business units are encouraged to promote increased telework and shared desking options for employees. Our efforts aim to reduce employee commuting stress and emissions while also reducing the company's real estate footprint.