Leidos expertise in analytics and big data continues to transform healthcare technologies by translating disparate data into meaningful and actionable information. With stakeholders in healthcare, public health, biomedical research and health policy, we deliver actionable information that aids decision-making to optimize care and identify health threats. Our quality health solutions in predictive analytics and big data, lifecycle management, business intelligence, investigation tracking, enterprise search and data management help improve performance and expand capabilities, thus maximizing value for its users.
We recognize that not all data is created equal – it comes from disparate sources in multiple formats. Our team of biostatisticians, epidemiologists, mathematicians, and medical informaticists create analytic solutions that:
Integrate health and biomedical data from disparate sources to enable secure data sharing and analysis while protecting patient privacy
Provide at-scale, full data sets to deliver insights and understanding for improved patient care
Apply best practices in data visualization to make it easier to identify trends and patterns in complex health data
Reduce costs through self-service approaches and open data platforms
Make it easier for U.S. government health programs to predict public health challenges and determine methods to protect and promote
Develop decision support models that enable forecasting with sparse, uncertain, and missing data
Using advanced analytic tools we can transform procurement, staffing, and heath records to determine where the right proactive spending results in cost containment solutions that improve quality of care.
Learn more about how big data can drive cost containment in Government Computer News article by Leidos Principle Scientist, Ryan Weil.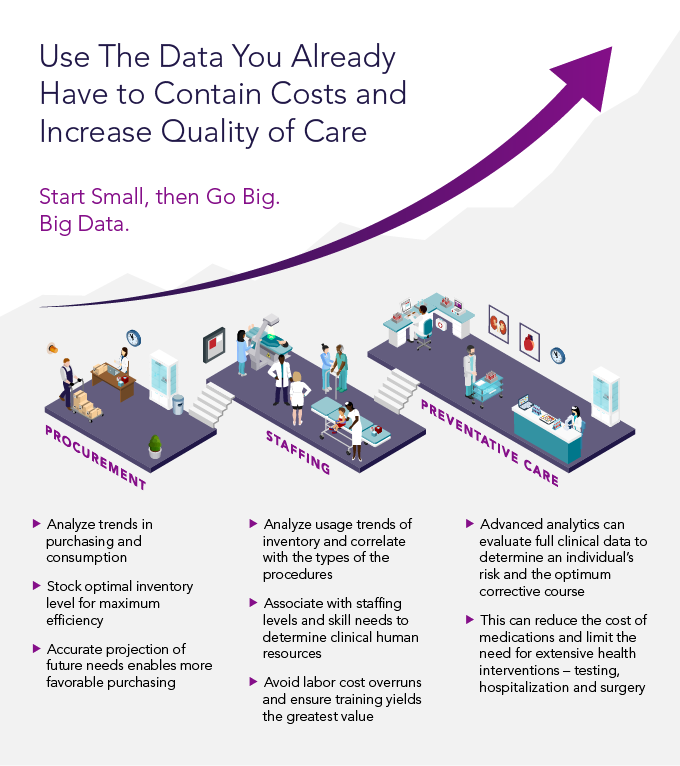 The Collaborative Advanced Analytics & Data Sharing Platform (CAADS™) is an end to end scalable healthcare data analytics solution from Leidos. CAADS™ seeks to address some of healthcare's major challenges in data analytics by using existing technologies.