The road to effective truck cargo screening technology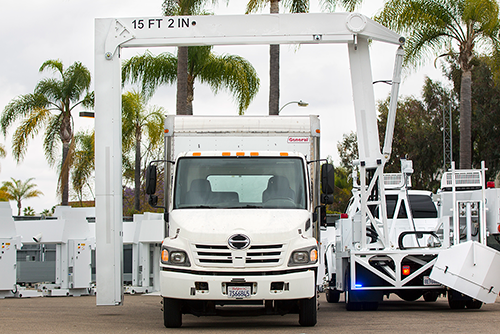 11 million maritime containers arrive at U.S. land borders every year, according to the U.S. Customs and Border Protection. The seaports take in an equal number, and 2.7 million arrive by rail. Technology from Leidos helps to process such cargo and ensure that only legally allowed material travels in — and out.
Over more than two decades, we've evolved cargo technology to keep up with changing demands. One such technology, Vehicle and Cargo Inspection Systems (VACIS), is used to inspect cargo transported on trucks. Leidos has developed a variety of VACIS units to meet the needs of various government agencies such as mobile systems for airports, military units on Humvees, and rail systems.
VACIS has become more sophisticated over time, changing from early gamma-ray contraband detectors to complex systems that integrate manifest information from cargo with X-rays in real time.
Gamma-ray systems for scanning cargo
Early iterations of VACIS used gamma-ray systems that scanned cargo for drugs or other contraband in tanker trucks.
Housed in a lead and tungsten container called a "pig," a radioactive source, usually cobalt or cesium, delivers the gamma rays. Radiation from the source penetrates the cargo and a detector at the other side picks up the photons to create a comprehensive radiograph, line by line. The radioactive device and the detector function like a light bulb and scanner in a flatbed scanner. Both elements scan trucks by moving slowly across the cargo or by driving the cargo slowly through the scanner. Normal cargo loads appear uniformly on the final radiograph but contraband register differently. This allows discrepant loads to be flagged for further inspection. Trucks can travel at speeds of four to five miles per hour while being scanned, and a typical scan takes about 12 seconds.
X-ray detection systems deliver advantages
The demand for greater penetration into cargo and better resolution of final images drove development of X-ray systems for contraband detection. X-rays provide greater penetration capabilities than gamma rays — over 12 inches of penetration of steel instead of six to eight inches.
You can also turn X-rays off and on and tune them to tailor doses according to the size and complexity of the cargo. Gamma-ray sources on the other hand are constantly hot, even when unplugged, and have to be disposed of carefully when they decay beyond a useful dose for effective imaging. In gamma-ray systems, the photomultiplier tubes used to count the number of photons emitted from the cargo deliver a resolution of the size of a silver dollar. Solid state detectors used in X-ray systems perform better, with resolutions around the size of a dime or smaller. All told, X-ray machines deliver the ability to search cargo better by increasing penetration and resolution capabilities. On the other hand, X-ray systems are bigger and about twice as expensive as gamma-ray equivalents, though Leidos systems are smaller than typical systems while still delivering high quality results.
Integrating imaging with manifest data
The next step in the evolution of cargo scanning of trucks involved getting more use out of the radiographs. Hitting that goalpost required a way of integrating the cargo scanning results with the manifest data and truck identifying information.
To streamline commerce, trucking companies now send manifest information — details on the kind and amount of cargo the vehicle is carrying — ahead of time. Truckers enter the relevant information on programmable RFID tags placed on the front windshield. When the vehicle enters the scanning area, an RFID scanner pulls up relevant information for the inspection authorities who can then match the records with the live scan they view on a device or computer screen. They can flag discrepancies accordingly. Even better, information about compliance can be tied to a specific cargo load on a specific date to a specific vehicle so authorities can easily prosecute offenders or track other relevant data as needed, as part of a wider cargo security plan.
Where cargo screening is headed next
In the future, expect even tighter integration between government systems and cargo screening results.
There's also a big push toward adopting artificial intelligence (AI) and machine learning algorithms for screening contraband in trucks and baggage at airports. Human agents can only stay alert for so long during routine and repetitive tasks. Instead of leaving the task of looking for bombs, explosives, guns, and other deadly devices to CBP agents alone, machine learning algorithms could be trained to conduct automated target recognition. Given the many different kinds of contraband and other harmful devices that can be smuggled in, training AI systems on each and every one may be challenging — but not impossible.
Cargo screening will continue to evolve as government requests grow increasingly complex and available technology becomes increasingly easy to leverage. Our extensive expertise has already taken us from gamma-ray systems to the forefront of screening mechanisms with advanced machine learning algorithms. At Leidos, we'll keep developing and improving technologies for cargo inspection to help stop the flow of contraband and to keep all ports of entry safe. We're looking forward to keeping pace with the evolution of cargo screening as we help safeguard travel and trade across ports and borders.