An intelligent approach – time and distance-based separation
Air passenger figures are set to double in the next 20 years. Inefficient final approach spacing is the single most constraining factor to runway capacity. NATS and Leidos have pioneered a product suite that blends technology and Air Traffic Control (ATC) expertise to enable airports to optimize approach spacing for aircraft through both distance-based and time-based separation.  
Using wake and headwind analysis to set time-based separation on final approach - versus traditional distance-based separation - Intelligent Approach increases runway utilization and throughput. By using RECAT EU spacing, Intelligent Approach increases runway utilization in all weather, being highly effective during high headwinds in particular, providing automated spacing for mixed-mode operations, and increasing capacity during low visibility operations providing considerable time and cost savings to airports. In addition, full pairwise spacing is a near-term solution feature. 
Benefits of Intelligent Approach
Intelligent approach is the basis for high-performance ATC; enabling capacity gains, assured IROPS, and enhanced safety thanks to an intuitive toolset.
Increased efficiency through consistent ATC delivery of approach spacing.

Increase runway throughput to maximize the revenue delivered by our runways.

User-friendly controller support tool suite enabling enhanced performance.

Improved resilience in advance weather.

Clear indication of safety minimal for controllers.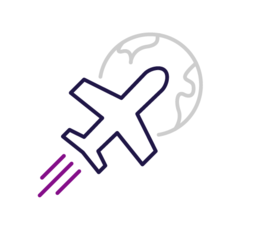 Reduced wind
related delays by
50%
at London
Heathrow
Award Winning Technology 
Intelligent Approach has been deployed at London's Heathrow Airport since 2015 with impressive results. The technology has also been recognized in the industry by winning a series of awards including:  
Institute of Engineering and Technology (IET) Transport Award 
IHS Jane's ATC Awards, Runway Category 
Single European Sky (SES) Award 
Enhancing airport resiliency and runway capacity webinar
The successful implementation of both Time and Distance-Based separation at Heathrow was the first of its kind. Since then, NATS and Leidos have continued to evolve the revolutionary suite of tools that enable an Intelligent Approach.