Lunar Terrain Vehicle
Watch a special message from Leidos and NASCAR

Exploring further, faster
Leidos and its Dynetics team will compete in another moon race, this time to design a vehicle that astronauts will use to explore the lunar surface.
Leidos, NASCAR speed into lunar rover race
The technology enterprise and the iconic racing organization have joined forces to submit a competitive bid for NASA's Lunar Terrain Vehicle (LTV). The partnership and the rover design will be a collaboration, combining the technology, innovation, research and development aspects from each company to create a safe, sustainable and durable vehicle.
---
Designed to explore the moon like never before
The rover design is a masterclass in simplicity, harkening back to the engineering that made the Apollo missions such a success, while incorporating modern innovations that prioritize sustainability. The rover's components have been meticulously designed to ensure the safety and well-being of astronauts as they drive across the lunar landscape.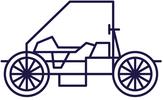 Supports crew across varying height and weight scales, promoting inclusivity and gender equality.

Tires made from a nickel-titanium alloy, or Nitinol, which is a shape-memory alloy. The material provides high performance during extremely low temperatures.

High Technology Readiness Level (TRL) batteries and solar arrays that can store energy to help survive the lunar night.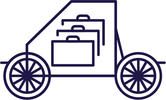 Payload bays to accommodate a variety of cargo, providing mobility, power, thermal and communications capabilities. 
Your journey starts here
Our employees uphold high standards of technical excellence and ethical conduct. We're looking for leaders who are ready to seize the initiative, make a difference for our customers and be a key part of our growth. 
Follow us for access to special content and news about special events.