NGEN-R SMIT
The U.S. Navy's Next Generation Enterprise Network program.
Today's team for tomorrow's network

We're leading the world's most advanced, secure IT missions.
Join us.
The Leidos NGEN-R SMIT Team unites Leidos with IBM, Verizon, and Unisys to provide the trusted, verifiable, and invested expertise essential to integrating a modernized network for the U.S. Navy.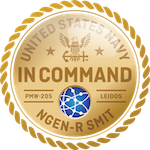 The team is comprised of some of the world's most highly acclaimed technology innovators and award-winning service providers and our collective track record demonstrates an unwavering commitment to ensuring seamless, secure, and scalable solutions designed to help our military leaders stay ahead of threats and achieve their missions.
Advantages of the NGEN-R SMIT program

Enterprise leadership
Solving complex problems with optimized, efficient solutions and a proactive engagement model

Network transformation
A mission-centric approach to digital modernization focused on the user

Uncompromising cybersecurity
Accredited testing and evaluation, information assurance, and vigilant monitoring and maintenance

Speed and scale
We modernize intelligently, using agile processes and delivering rapid, resilient capabilities, tools, and methods that reduce security risks and meet objectives
Rapid, resilient innovation
Proven solutions in integrated systems, enterprise IT infrastructure, and systems engineering

Recognized leaders
Uniting recognized market leaders and employers of choice committed to supporting the people who power NGEN-R SMIT

The Leidos NGEN-R SMIT Team will deliver seamless, secure, and scalable solutions designed to help our military leaders stay ahead of threats and achieve their missions through:

Transport Services to include BAN/LAN/WLAN, WAN, Communities of Interest (COI), and Cross Domain Solutions (CDS)
Network Operations to include Data Center Services, Service Continuity, Service Operations Information Security, Account & Directory Services, Authorization and Authentication Services, and Tools and Data Management
IT Service Management to include Asset, Change, Configuration, Performance, and Service Catalog Management
User Support Services to include Electronic Classroom, End User Core Build, Electronic Software Delivery, Service Desk, and Seat Support

The NGEN-R SMIT program will operate from global locations, including:

Washington, DC Metro
Norfolk, VA
San Diego, CA
Pearl Harbor, HI
Naples, Italy
Yokosuka, Japan
Bahrain

Find your next challenge

Interested in being part of the team building a secure network for the Navy?

The Leidos Team is hiring innovators, ideators, and game-changers for positions across the country and around the world.