Employee Demographic and Statistics
Analyzing demographic data helps Leidos develop practices to better serve our employees.
People are the foundation of everything that we do. It is our responsibility to provide opportunities for them and give them paths to grow and develop – this will help us retain our best talent. Fostering a diverse team is also critical in order to provide the best possible results for our customers.
Locations
U.S. Employees
Leidos is a global company with 31,700 employees worldwide (as of the end of December 2016). Of that population, over 29,000 are in the U.S., representing all 50 states, the District of Columbia, and territories. The largest concentration of our employees is in the National Capital Region, with about 10,700 employees in the Washington, D.C. Metropolitan area.
Our total number of employees increased substantially in 2016 due to the merger with Lockheed Martin's Information Systems and Global Solutions business (IS&GS). The merger also led to an increased global footprint for Leidos with larger populations in the United Kingdom and Australia.
Since this map does not display Washington, D.C. or U.S. territories, 838 employees working in Washington, D.C. are mapped to Virginia, and employees working in U.S. territories appear in the International Map below.
International Employees
We also have employees in more than 20 countries around the world, with the majority of international employees located in the United Kingdom and Australia.
Workforce Composition
The overall composition of our workforce in terms of gender has remained steady while ethnically diverse representation has increased over time. Our merger with IS&GS contributed to increasing overall workforce diversity in 2016. Leidos tracks workforce metrics regularly and participates in benchmarking studies to ensure that we are in line with industry trends and on target for our people goals. Initiatives to positively impact our diversity, such as affinity groups like our ERGs and recruiting and development efforts that focus on the advancement of our diverse workforce are ongoing. See Diversity and Inclusion for more information on these and other programs.
Employee Education
A large concentration of our workforce is composed of scientists, engineers, developers, analysts, and others in technical positions. Leidos is proud of these very educated individuals and their contributions to our customers, partners, and communities.
Highest Degree Obtained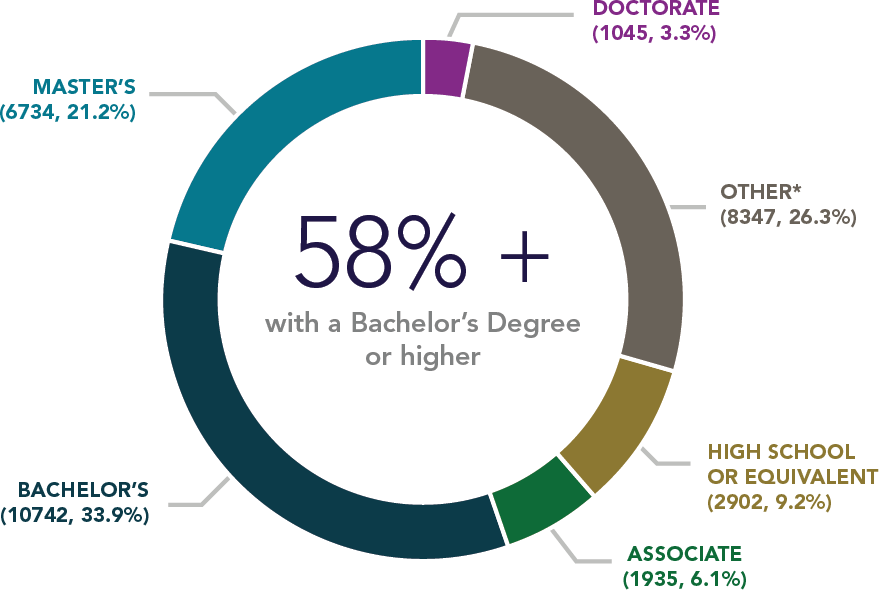 These 8,347 employees hold a variety of degrees, including advanced degrees, but due to the migration of employee data post-merger and due to employee data from subsidiaries not being captured in the core Leidos HR system, validated degree information is not available as of the end of 2016. Degrees are self-reported by employees.