Helping manage the world's airspace
Leidos air traffic control systems are used in Air Navigation Service Provider (ANSP) facilities that control more than 60 percent of the world's air traffic. We support the Federal Aviation Administration's NextGen program with government accepted systems including En Route Automation Modernization (ERAM), Advanced Technology Oceanic Procedures (ATOP), Time Based Flow Management (TBFM), and Terminal Flight Data Management (TFDM). We also provide the SkyLine-XTM ATM suite to enhance safety, improve on-time performance, and increase fuel efficiency globally in countries around the world.
We also work extensively with NATS in the UK developing and supporting their current in-service systems and are also the Systems Integration partner for their next generation "Deploying SESAR" system.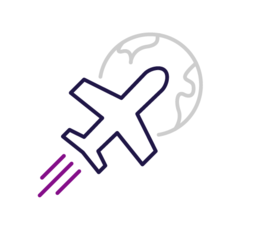 We help the
FAA manage
43,000
daily flight
movements
Improve performance, safety, and efficiency  

Our air traffic management suite, SkyLine-X™, is built from the best components of proven, globally deployed air traffic management technologies that draw upon years of experience working with the most complex airspace systems in the industry.   
With its unique portfolio of automation, surveillance, navigation, and landing solutions — backed by Leidos' extensive cyber, analytics, and technology expertise —SkyLine-X™ sets new standards for air traffic performance, efficiency, and safety. 
Benefits of the Leidos Approach
Improved safety with modern surveillance

Greater throughput with trajectory-based operations

Faster, safer control pilot communication

Efficient collaboration

Greater capacity with time-based flow management

Improved terminal spacing and sequencing

Enhanced planning with accurate weather forecasting
whitepaper
Innovations in Aviation Flow Management
Learn how to reduce congestion and increase capacity through innovation in aviation flow management.