Helping manage the world's airspace
Every day, Leidos provides air traffic control systems that help manage more than 44,000 flights and 2.7 million traveling passengers in the world's busiest and most complex airspace. We support the Federal Aviation Administration's NextGen program with government accepted systems including En Route Automation Modernization (ERAM), Advanced Technology Oceanic Procedures (ATOP), Time Based Flow Management (TBFM), and Terminal Flight Data Management (TFDM). We also provide the SkyLine-XTM ATM suite to enhance safety, improve on-time performance, and increase fuel efficiency globally in countries around the world.
We also work extensively with NATS in the UK developing and supporting their current in-service systems and are also the Systems Integration partner for their next-generation "Deploying SESAR" system.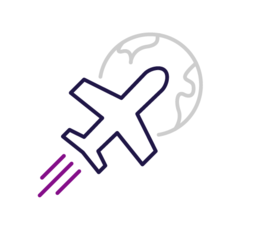 We help the
FAA manage
44,000
daily flight
movements
Next generation global
air traffic solutions  
Air Traffic Management (ATM) requires uninterrupted services, robust response, adaptability, flexibility, and intuitive failsafe operations. At Leidos, we meet these comprehensive requirements through a single system: SkyLine-X™.   
We designed SkyLine-X™ to keep our customers ahead of the rapidly growing demands of the global aviation market, built the system from the best components of proven, globally deployed ATM technologies, and incorporated next generation features co-developed in partnership with ANSPs and technology providers. The system provides the latest ATM services for tower and terminal, en route, oceanic, and comprehensive flow control management capabilities. 
Benefits of the Leidos Approach
Improved safety with modern surveillance

Greater throughput with trajectory-based operations

Optimal situational awareness from safety advisory tools

Independent electronic flight strip capability

Greater air traffic capacity provided by SkyLine Flow

Faster, safer controller pilot communication

Efficient collaboration