Modernizing Naval IT
Next Generation Enterprise Network (NGEN) Service, Management, Integration and Transport (SMIT)

We're building the
Department of Navy's
enterprise framework of the future.
Connecting more than 400,000 hardware devices, 650,000 users, and at nearly 1,700 CONUS and OCONUS sites worldwide. Guided by the IT expertise at Leidos, this network modernization and convergence empowers the Navy and Marine Corps to compete and win with more capabilities than ever before.
Providing mission critical services across three network domains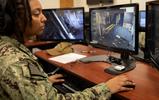 Navy Marine Corps Intranet (NMCI)
NMCI is a secure IT platform for more than 500,000 Sailors and civilians at more than 2,500 locations in the continental United States and Hawaii.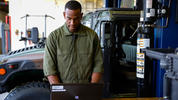 Marine Corps Enterprise Network (MCEN)
MCEN is the Marine Corps' network-of-networks and approved interconnected network segments. It comprises people, processes, logical and physical infrastructure, architecture, topology and cyberspace operations.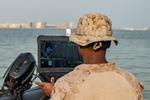 OCONUS Naval Enterprise Network (ONE-Net)
ONE-Net is the unified computing environment that provides critical connectivity to OCONUS Navy shore commands such as Naval Support Activity Bahrain, home to U.S. Naval Forces Central Command and United States Fifth Fleet.
Advantages of the SMIT program

Lower Costs
Lowering total cost of ownership through enhanced tools, streamlined processes and improved traffic flow

Increased agility
Leveraging software defined networking and virtualization to decrease hardware footprint and enable automation

Enhanced Security
An adaptive defense strategy, sustainable threat protection, and a mature security posture

Simplified architecture
A contemporary and simple architecture that facilitates better traffic flow and easier future technology integration

Modernized infrastructure
Converged enterprise framework of the future empowers the Navy and Marine Corps to compete and win

Recognized leaders
Uniting recognized market leaders committed to supporting the people who power SMIT

Learn more about the SMIT program
The SMIT contract was designed with network transformation and modernization as a top priority, a key component in the Department of the Navy's (DON) network modernization efforts, to provide Sailors, Marines and the civilian workforce the tools they need to be more efficient at increasing Naval capabilities – and further empowering the Navy Marine Corps team to compete and win.
Leveraging our core capabilities
With Leidos, a new era of future combat support systems is here – giving Sailors, Marines, and civilians every advantage they need to succeed in their important missions. Creating high-performance virtual labs to test, scale quickly, and deploy new technology solutions to the network while still managing risk.

From developing AI and machine learning techniques to improve operations to using best-in-class modeling and simulation engineering for impact analysis to creating an advanced service desk that reduces time to resolution and adds greater support to end-users.

This improved platform will be the information pipeline that provides warfighting solutions and global operations.
See all our core capabilities